Learn the nipple flipple technique to help your infant achieve a deeper latch, and make breastfeeding more comfortable for you and more efficient for your baby.
When the Nipple Flipple Technique Can Be Helpful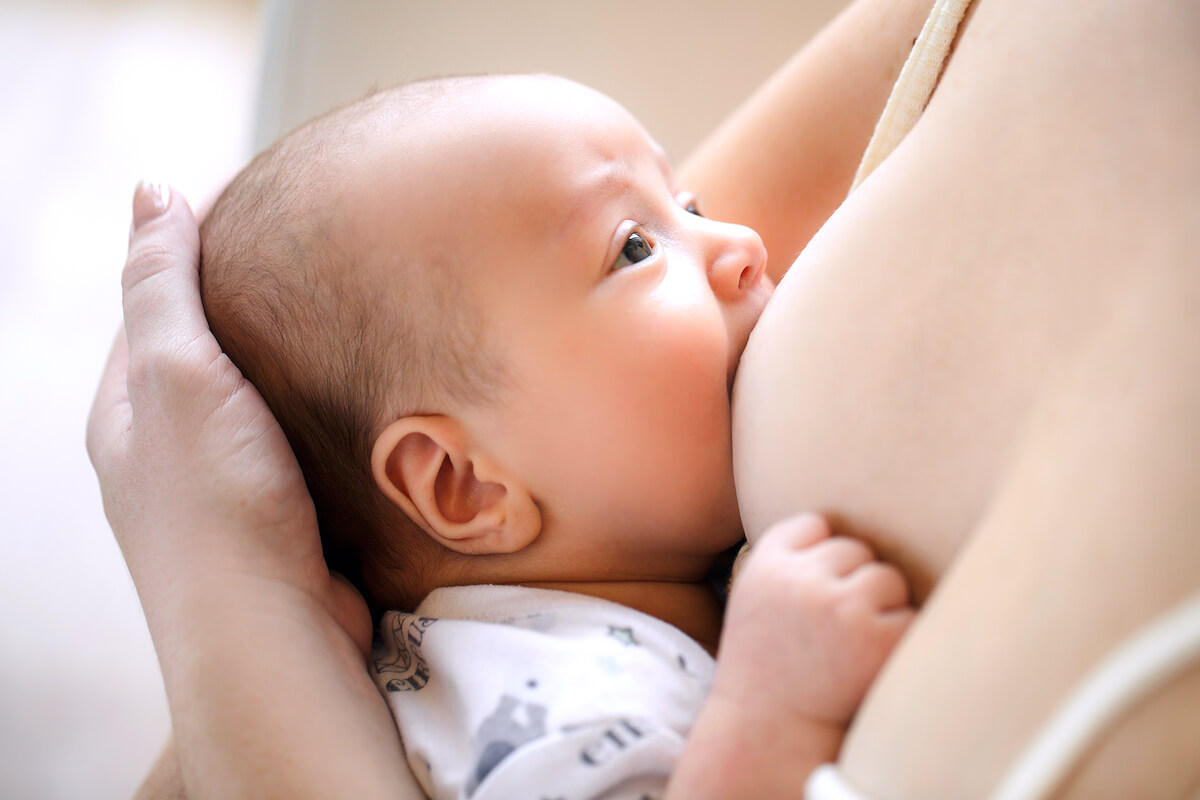 A bad latch can cause discomfort or even pain for mom, and be extremely frustrating for baby. Without a good latch, you're at risk of sore and painful nipples, while your baby may not get enough milk.
Dealing with a poor latch and the associated issues can be stressful and draining, but the flipple technique (also known as the exaggerated latch or deep latch technique) can help.
Note the information here should not replace the advice of a health care professional. For further advice from the NHS, go here.
Symptoms of a Shallow Latch
When you have the right latch, breastfeeding should not be painful, and your baby should be happy nursing.
If you or your baby are experiencing any of the following issues, it might indicate a poor latch.
Symptoms in mom of a shallow latch:
Sore nipples caused by positioning against hard palate during nursing.
Low milk supply due to insufficient draining of breasts to stimulate milk production.
Clogged milk ducts, again due to inadequate drainage of the breasts.
Symptoms in baby of a poor latch:
Lips are tucked in during nursing instead of splayed out.
Cheeks are sucked in during efforts to nurse.
You hear clicking as the airlock between baby's mouth and breast is compromised.
Baby is fussy at the breast and gets frustrated, showing continued signs of hunger despite regular, on demand breastfeeding sessions.
Poor weight gain.
When you have the right latch, breastfeeding should not be painful, and your baby should be happy nursing.
You may be interested in this post if you continue to experience breastfeeding pain even with a good latch.
Note also that I have experienced many of these symptoms with no obvious explanation. Lip and tongue ties were ruled out, and eventually my daughter was diagnosed with an allergy to cow's milk protein, which was present in my breast milk.
What is the Deep Latch Technique?
Flipping your nipple into the proper position can help your little one achieve a deep latch.
The word 'flipple' comes from the term 'flip the nipple', which gives a clue as to how to correctly perform the technique!
Essentially, it involves arranging your baby into the optimum position and then, as they begin to latch, flipping your nipple into the proper position to help your little one achieve a deep latch.
Perfecting this technique will lead to reduced (or hopefully eliminated!) nipple pain for you, and a more satisfied baby as they get adequate breast milk at each feed.
Who is the Flipple Technique For?
The nipple flipple can work well for any mother and baby dyad who struggle to get a good latch during breastfeeding. Typically this will include infants with:
An oral tether (lip and/or tongue tie)
Premature babies with a small mouth
I personally used the technique both with my early baby, and also my allergy baby who was extremely fussy at the breast.
What Position Should You Hold Your Baby in For the Exaggerated Latch to Work?
A great position for the deep latch technique to work is the koala hold (also known as the saddle hold or the Australian hold). Here's how to get baby in this position:
Get yourself in a comfortable sitting position.
Position baby upright, chest to chest with you.
Depending on your baby's age and size, they can either straddle your leg, or you can support their bottom with a nursing pillow or your hand while they 'kneel'.
Baby's head should be in line with your breast, with nose at nipple height.
In this upright position many babies will comfortably self-attach. For those who need support due to any physical issues, this is a good hold to use with the deep latch technique.
How Do You Do the Flipple Technique?
Here are the steps to achieve a good deep latch by employing this breastfeeding latch trick:
Arrange yourself comfortably in a position that you'll be able to hold for the duration of nursing.
Hold you baby in the koala hold, as outlined above.
Bring baby into your nipple, lining his nose up with your nipple.
Using the opposite hand to the breast your baby will be feeding from, gently press the top of your areola so the nipple lifts up and tilts away from your baby's nose.
Bring baby in towards your breast. Instinct will cause your baby's mouth to open wide, with head angled back (you can support the neck with your fingers), baby's chin pointing towards the breast and the bottom lip lining up around the edge of the areola.
Allow baby's lower lip to make contact at the bottom part of the areola, and then gently release your fingers, causing the nipple to flip into the roof of the mouth, encouraging a bigger mouthful of breast tissue for a deeper latch. If necessary, you can gently tuck the nipple in and back towards the soft palate.
Once baby has latched, use your finger to ensure their top lip is turned out if they've not managed this by themselves.
You can also watch the technique in action in this video clip:
What if the Flipple Technique Doesn't Work?
If your baby is still struggling, try this additional trick:
Create a C shape with your thumb on top and fingers underneath, to create a 'sandwich' of breast tissue, with the nipple tilted up, and then follow the above steps.
Note: this is a short term solution intended for premature infants or babies with an oral tether, since breast compression can cause blocked milk ducts and inefficient milk transfer.
If you're still having trouble with baby's latch even after trying all of these tips, please seek help from a lactation consultant.